With the 2006 version of Magtax it is now possible to import 1099 and W2 data directly from QuickBooks.
Before you click the button....
1. Make sure you have the company you want to import as the current active company in QuickBooks
2. Make sure you have access rights to the Payroll data.
3. Make sure you have read and understand the process of Communicating with QuickBooks.
4. Now your ready to click the button -> "Click Here to Get the Data"
5. After the communications with QuickBooks is complete, the window changes as below. As you can see 3 new buttons appear as well as the Company Name above the buttons.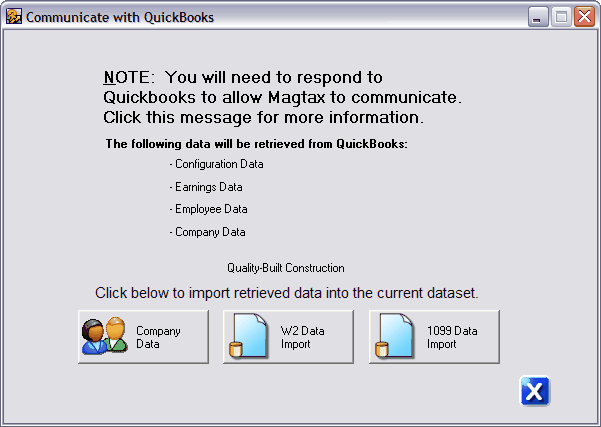 6. To Import the Company Name, Address, and Tax ID, click "Company Data"
7. To Import the W2 Data, click W2 Data Import.
8. To Import the 1099-Misc data, click 1099 Data Import.
9. Once you click the
Close button you are done.
That's it !